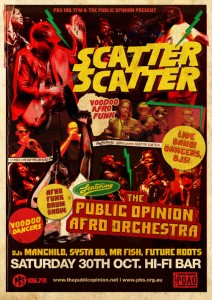 PBS 106.7FM and The Public Opinion have joined forces to present Scatter Scatter: Voodoo Afro-funk on Saturday October 30th at the Hi Fi.
Scatter Scatter takes you back to 1970's Lagos and the birth of afrobeat, shaking it 'til dawn at Fela Kuti's 'Afrika Shrine' nightclub.  It's all about this hypnotic music and dance movement that combines West African highlife and traditional rhythms with funk, jazz and a powerful political message.
Scatter Scatter brings you the finest afro-crate-digging DJ's Manchild, Systa BB, Mr Fish & Future Roots, playing the hardest classic and contemporary afro-funk as well as some of Australia's deepest African-influenced bands and live acts.  For the launch party we are joined by Melbourne's own 17 piece afrobeat heavyweights The Public Opinion Afro Orchestra live on stage, performing songs from their recent ARIA nominated debut album 'Do Anything Go Anywhere'.
Live African voodoo dance and drumming acts will perform on the night in the scatter market place so paint ya face, get ya beads on n' head down to Scatter Scatter, Melbourne's first afrobeat club night! Tickets $15 @ the door. Doors 9pm.
www.facebook.com/event.php?eid=154835237889494
www.pbs.org.au
www.youtube.com/scatterscatter
Extra info:
The Public Opinion Afro Orchestra: Inspired by the infectious afro-beat music of Nigeria and its neighbours, POAO delivers contemporary African funk to Australian dancefloors. The Public Opinion Afro Orchestra's powerful MCs and tribal rhythms are the modern-day "musical weapon" that remain faithful to the message of afro-beat.
Mr Fish: The sounds of his birthplace, the Reunion Islands and his travels through France and the rest of Europe have shaped the sound of Mr Fish.  After landing in Melbourne in 2005 he has been expanding minds on the dancefloor as part of the Uber Lingua Collective with his trademark no-boundaries DJ sets.
Systa BB: Systa BB has been at the forefront of global and electronic music in Melbourne since 1993 with ground-breaking radio shows on PBS and RRR coupled with her writing for various print and online publications.  Her DJ sets are a journey through electronic, global fusion and traditional beats. Check RRR 102.7, Tuesdays, 2-4pm.
DJ Manchild: A long-time fan of Afrobeat and Afro-funk DJ Manchild is a founding member and co-director of The Public Opinion Afro Orchestra.  Digging for 45's in Lagos in 2008 helped sharpen the direction of his West-African influenced dancefloor sets and his show The Breakdown, every Friday between 3-5pm on PBS 106.7.
Future Roots: Future Roots fuses ancient traditional rhythms with contemporary electronic production and instrumentation. The music played by Future Roots reflects a rich life journey that has allowed him to have seen and connected with many cultures and ways of life through travel and music.