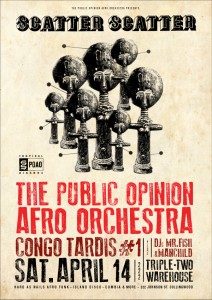 The Public Opinion Afro Orchestra is onboard and playing live at the next installment of the Scatter Scatter Tropical Disco. Over the past few months DJ Manchild and The Public Opinion Sound System have gotten Melbourne warmed up to the tropical disco sounds of Scatter Scatter with a series of sweaty, percussion-driven, dancefloor-burning parties. Guests such as Jumps, Chris Gill and Saca La Mois DJ! (Cumbia Cosmonauts) joined forces with them to bring nothing but the heaviest afro-funk, the deepest Island disco, the fieriest Colombian salsa and the most mind-bending cumbia.
Now the time has come however, to summon the furious afro-storm that is The Public Opinion, calling them to whip the masses into a frenzy at a special Tropical Discotheque style club show at Triple Two Warehouse. They have been busy preparing new songs, waiting to them to unleash upon the unsuspecting dancers down at Scatter Scatter.
Support comes from Congo Tardis #1 who have been making waves both here and abroad with their self-titled debut EP. Taking elements of the tropical and tribal rhythms of Africa and South America, they weave them together with new club sounds such as Kwaito, Dancehall and Shangaan Electro creating a distinct sound that is theirs alone. They will be playing a late night club set to ensure the party continues until you just can't move no more. Check them out at congotardis1.com
Also assisting will be DJ's Manchild and Mr Fish (Reunion Island). Mr Fish brings his own unique take on new afro-grooves that are emerging from Africa and Europe. With one foot in the roots and another firmly in the future he always one step ahead of the game.
So take a cruise (sorry, no real boats), grab a tropical cocktail (actually available!) and kick it under a palm tree (fake but pretty realistic) on the 14th of April; it doesn't what the weather is like outside, you know at the Scatter Scatter Tropical Disco it will be hot, hot, hot…
This is one party that you do not want to miss!
Scatter Scatter: A Tropical Disco Warehouse Party
feat. The Public Opinion Afro Orchestra, Congo Tardis #1, Mr Fish and DJ Manchild
Saturday 14th April – Triple two Warehouse, 222 Johnson St, Collingwood. From 9pm onwards
Tickets only available on the door so get down early!!
Like Scatter Scatter on facebook