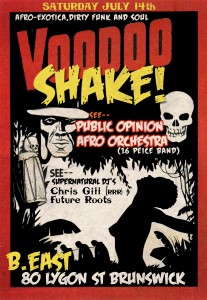 This FREE event, kick's off this monthly ritual @ the beast , with focus on live (an undead) music with Melbourne finest afro and funk band s laying down super heavy hip shaking grooves , backed up by a stable of supernatural dj's…………….
The Public Opinion Afro Orchestra
Future Roots
DJ Chris Gill
FREE!
stay tuned for Voodoo Shake every month!