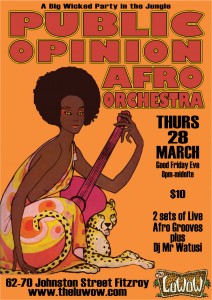 On Thursday Mar 28th (Good Friday Eve) The Public Opinion Afro Orchestra will be appearing at The LuWow in Fitzroy for a night of funky afro-beat. In their two blistering sets expect fiery dancing to furious drums and percussion, a blazing 5 piece horn section, and some deep hypnotic grooves.
Going for the record for the most number of performers on stage at The LuWow (17!) they'll be joined by DJ Mr Watusi to keep the party going til late.
Tickets only $10 at the door!